84TH ACADEMY AWARDS PREVIEW + PREDICTIONS
It's that time of year again when the glitz and glamour of Hollywood all come together for one epic and surreal night and as Warren Beatty would say "We want to thank all of you for watching us congratulate ourselves tonight." This has been another year with sublime and enthralling films backed up by subtle, powerful and fierce performances with dedicated crew work to boot. There's been some bizarre Oscar nominations AND shocking snubs which once again has provided its own debate amongst film fans and that will come into focus again next Sunday when the hilarious Billy Crystal returns to Oscar-hosting duties for the first time since 2004 in what should be a wonderful night for Oscar (Oscar, Oscar!). This article is my look at the nominees and who I believe will win, who should win and who should have been nominated. Bring on next Sunday!
___________________________________
THE DESCENDANTS
EXTREMELY LOUD & INCREDIBLY CLOSE
THE HELP
HUGO
MIDNIGHT IN PARIS
MONEYBALL
THE TREE OF LIFE
WAR HORSE
Many thought it would be 7 or even 10, but instead the Academy favoured the 9 mark with an interesting but unimaginative set of films with most them including themes of family, equality, adventure, ambition, nostalgia, friendship and meaning. And it's also noticeable that most of the films don't range towards violence and swearing, instead providing a light-hearted line-up with some bordering on sentimentalism. The one shock nominee was Extremely Loud which was seen as a critical flop yet it's tragic elements of 9/11 seemed enough to convince voters to nominate it and the reaction to its nod was clearly evident during the Oscar announcement. However there's no denying that classical Hollywood drama The Artist won't be beaten here given its success in awards season (aside from its SAG ensemble loss) but otherwise it's a done deal. The Descendants won the Drama Film Golden Globe but seems to have lost steam while Hugo is more of a technical achievement if anything else. The Help won the SAG for cast but missed out on key nods in Director and Screenplay. Midnight In Paris and Moneyball both stand better chances in screenplay while The Tree of Life and War Horse are more technically achieving. Extremely is just a fortunate nominee....
Will win? -

THE ARTIST (It's won nearly everything, don't bet against it!)
Should win? -

THE ARTIST (My personal favourite too!)
What was snubbed? -

HARRY POTTER AND THE DEATHLY HALLOWS PART TWO (Highest grossing film of last year and critically acclaimed yet no major nods for the final installment of one of the most popular franchises ever? Disappointing)
___________________________________
BEST DIRECTOR
Woody Allen - Midnight In Paris
Michel Hazanavicius - The Artist
Terence Malick - The Tree of Life
Alexander Payne - The Descendents
A solid line-up of directors consisting of three living legends, an experience writer/filmmaker and a newcomer for which ironically it is the newcomer who is surely set to win. Hazanavicius has been guided along The Artist's mass success by winning key awards including the important DGA and recently the BAFTA for his helming of the film. Scorsese who recently won here for The Departed (a long overdue win) did win the Globe but looks like he'll be happy to see a new man take the prize. Payne is more likely to win another screenplay Oscar as is Allen while the bold nomination for Malick proved that despite a lack of precursor attention, there were members of the Academy still fascinated by his work which was enough for him to tag along.

Will win? -

MICHEL HAZANAVICIUS (Deserves a lot of credit for his stunning effort)



Should win? -

MICHEL HAZANAVICIUS (Again, no complaints, a worthy winner)
Who was snubbed? -

STEVEN SPIELBERG (Though it wasn't his best film, the legendary director deserved some attention for what was another impressive comeback year for him with Tin Tin also a hit)
___________________________________
BEST ACTOR
Demian Bichir - A Better Life
George Clooney - The Descendants
Jean Dujardin - The Artist
Gary Oldman -
Tinker, Tailor, Soldier, Spy
Brad Pitt - Moneyball

The Academy made a couple of random but intriguing choices for Best Actor nominating the predicted trio of Clooney, Dujardin and Pitt but also a first nominee for established British actor Oldman and a shock mention for Mexican actor Bichir in his little known film. Sadly this meant a hurtful snub for Michael Fassbender's risky performance in Shame though at least the critics were happy to reward him over awards season. Originally it looked like this category would be a tussle between Hollywood stars Clooney and Pitt but recently Dujardin has nabbed a couple of key wins at SAG and BAFTA and now looks like he'll be the first foreign actor since Roberto Benigni to scoop the prize. Given his superb performance and his utter charm, he would be a satisfying winner. With pleasure!

Will win? -

JEAN DUJARDIN (Though Clooney has a lot of friends in high places....)



Should win? -

JEAN DUJARDIN (Not a bad way to make a splash in the big time, too charming)
Who was snubbed? -

MICHAEL FASSBENDER (After all those nude scenes he rosked doing, the Academy weren't willing to recognise him despite critical acclaim, but he did have an excellent year overall)
___________________________________
BEST ACTRESS
Glenn Close - Albert Nobbs
Rooney Mara -
The Girl with the Dragon Tattoo
Meryl Streep - The Iron Lady
My Week with Marilyn

Perhaps the toughest category to predict here with Davis and Streep (who worked together on Doubt) battling it out for the main gong in probably the closest acting contest since Penn vs. Rourke in '08. Advantage for Davis is her Critic Choice/SAG award AND the prospect of being only the second black woman to win Best Actress. Advantage for Streep is she hasn't won for 30 years and a third Oscar would all but secure her status as one of Hollywood's all time greats plus playing a leading factual character in an otherwise poorly-received biopic. It is too close to call. Otherwise Williams will have to make do with her Comedy/Musical Globe win since the Weinstein's have chosen to back Streep. Close is now the most overdue actress in Hollywood and will have to settle for 0/5 in her Oscar record. Mara's nod for Dragon Tattoo was fully deserved for such a physically challenging role.

Will win? -

MERYL STREEP (But Davis has her supporters too plus being in the more acclaimed film)



Should win? -

MERYL STREEP (Conveying powerful emotions in her portrayal though Mara would have been an excellent choice)
Who was snubbed? -

TILDA SWINTON (Winner of NBR and multiple nominations at Globes, Critic Choice, BAFTA and SAG yet the Academy chose to snub her guilt-ridden performance in a stunning film that was probably too dark for Oscar)
___________________________________
BEST SUPPORTING ACTOR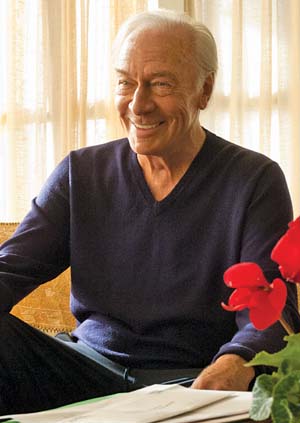 Kenneth Branagh -
Nick Nolte - Warrior

Christopher Plummer - Beginners
Extremely Loud & Incredibly Close
Experience is key in this category with the exception of Hill in which the four other nominees are all aged over 50. But it would seem that the versatile Plummer has been likely to win here since Beginners was released way back in March and is likely to be his long-overdue career win. Especially since Albert Brook's shock snub for Drive (the critic's darling in the precursors). However momentum has developed for another veteran Von Sydow for his touching role in the critically disappointing Extremely Loud but given that he was snubbed everywhere else, he probably won't succeed in an upset. Branagh received key noms in all the main awards and was rewarded for an effective comeback performance as was Nolte despite his film's box-office disappointment. Hill will be glad to have a first nomination amongst a group of established and experienced actors.

Will win? -

CHRISTOPHER PLUMMER (Captain Von Trapp will not be denied and should walk this category with ease)



Should win? -

NICK NOLTE (An emotionally-guilt-ridden performance in one of the most overlooked films of last year)
Who was snubbed? -

ERZA MILLER (Though it wasn't actually a snub, his evil and despicable portrayal of Kevin didn't gain the recognition he deserved, perhaps the most evil child in film)
___________________________________
BEST SUPPORTING ACTRESS

Berenice Bejo - The Artist
Jessica Chastain - The Help

Melissa McCarthy - Bridesmaids

Janet McTeer - Albert Nobbs
Octavia Spencer - The H
elp
Again like Supporting Actor, Spencer has swept most of the awards and is surely set to clinch Oscar glory here. Despite fears of an initial vote-split with co-star Chastain (like Amy Adams and Melissa Leo last year), the African-American actress secured the better reviews and the recognition for a cracking performance. However should they split it would give room for someone like Bejo to sneak it especially if The Artist sweeps but she herself might just be glad to be nodded. Same for McCarthy whose gross but hilarious character role in Bridesmaids doesn't seem like Oscar material but if it could happen for Kevin Kline, then an underdog win would bring the house down. McTeer will just be glad to be nodded again for a film which was more about her co-star Glenn Close.

Will win? -

OCTAVIA SPENCER (Has swept through this awards season without trouble, a fascinating performance in a Best Picture nominee)



Should win? -

JESSICA CHASTAIN (Not only because of her excellent 12 months with five films but because I want her babies, a breath of fresh air this year)
Who was snubbed? -

BRYCE DALLAS HOWARD (After some previously disappointing films, she went completely against character with one of the underrated performances of the year, her racially-cruel character deserved more attention along with Chastain and Spencer)
___________________________________
Despite its lack of dialogue, The Artist seems likely to sweep many categories particularly this one, helped even more by its BAFTA win. Woody Allen could still win again for his nostalgic screenplay especially if wins the WGA while there would be laughs aplenty if Kristen Wiig became an Oscar-winner for her hilarious and raunchy script for Bridesmaids. A Separation is the big foreign film to break through this category amongst the American nominees while the long-shot nod for Margin Call was satisfactory for others.

Should win? -
BRIDESMAIDS
What was snubbed? -

SHAME (Steve McQueen's raw drama deserved more attention here despite its controversial plot)
___________________________________
BEST ADAPTED SCREENPLAY
The Descendants
Hugo
The Ides of March
Moneyball
Tinker Tailor Soldier Spy
Overview
A strong list of films in contention with Alexander Payne likely to win his second Oscar for his writing here though Aaron Sorkin could win for the second year in a row for his adaptation of Moneyball (a critic awards favourite here). Tinker Tailor's BAFTA win gives it a dark horse chance while Hugo was more about the technical detail in other categories. George Clooney will have to settle for another Screenplay mention in his impressive CV.
Will win? -

THE DESCENDANTS
Should win? -
MONEYBALL
What was snubbed? -

THE HELP (How does one of the Best Picture favourites not get nominated here?)
__________________________________
BEST ART DIRECTION
The Artist
Harry Potter and the Deathly Hallows Part Two
Hugo
Midnight in Paris
War Horse
Will win? -

HUGO
Should win? -
HUGO
What was snubbed? -

TINKER TAILOR SOLDIER SPY (One of the best parts of the film which was otherwise disappointing)
___________________________________
BEST CINEMATOGRAPHY

The Artist
The Girl with the Dragon Tattoo
Hugo
The Tree of Life
War Ho
rse
Will win? -
THE TREE OF LIFE
Should win? -
THE TREE OF LIFE
What was snubbed? -

HARRY POTTER AND THE DEATHLY HALLOWS PART TWO (Another excellent category for which the franchise didn't get enough recognition)
___________________________________
BEST COSTUME DESIGN

Anonymous
The Artist
Hugo
Jane Eyre
W.E
Will win? -
THE ARTIST
Should win? -
HUGO
What was snubbed? -

THE HELP (A real throwback to the dark ages of class amongst women, particularly the wealthy and the maids)
___________________________________
BEST MAKEUP

Albert Nobbs
Harry Potter and the Deathly Hallows Part Two
The Iron Lady

Will win? -
THE IRON LADY
Should win? -
HARRY POTTER AND THE DEATHLY HALLOWS PART TWO
What was snubbed? -

ANONYMOUS (Beautifully detailed on its actors with its Elizabethan setting)
___________________________________
BEST EDITING

The Artist
The Girl with the Dragon Tattoo
What was snubbed? -

TINKER TAILOR SOLDIER SPY (Again another memorable aspect for one of the overrated films of 2011)
___________________________________
BEST SOUND EDITING

The Girl with the Dragon Tattoo
Transformers: Dark of the Moon
What was snubbed? -

SUPER 8 (That train explosion sequence felt like a waste of time not to be noticed here)
___________________________________
BEST SOUND MIXING

The Girl with the Dragon Tattoo
Transformers: Dark of the Moon

War Horse

Should win? -
TRANSFORMERS: DARK OF THE MOON (Only because of Greg P. Russell's record!)
What was snubbed? -

SUPER 8 (See Sound Editing)
___________________________________
BEST VISUAL EFFECTS

Harry Potter and the Deathly Hallows Part II
Rise of the Planet of the Apes

Transformers: Dark of the Moon

Will win? -
RISE OF THE PLANET OF THE APES

Should win? -
HARRY POTTER AND THE DEATHLY HALLOWS PART TWO
What was snubbed? -

THE TREE OF LIFE (A visually outstanding universe created by Terence Malick)
___________________________________
BEST ORIGINAL SCORE
The Adventures of Tin Tin: The Secret of the Unicorn - John Williams
The Artist - Ludovic Bource
Tinker Tailor Soldier Spy - Alberto Iglesias
War Horse - John Williams
Should win? -
THE ARTIST (with War Horse a close second)
What was snubbed? -

THE GIRL WITH THE DRAGON TATTOO (A dark and vindictive soundtrack with a loud, ferocious opening song)
___________________________________
BEST ORIGINAL SONG
The Muppets - Man of Muppet
Will win? -

THE MUPPETS
Should win? -
THE MUPPETS
What was snubbed? -

Life's A Happy Song from THE MUPPETS (a fabulous and joyful musical number which was easily better than the nominated song from the same film)
___________________________________
BEST ANIMATED FILM

Puss in Boots

Rango

Will win? -
RANGO
Should win? -
PUSS IN BOOTS
What was snubbed? -

THE ADVENTURES OF TIN TIN (One of the most imaginative and entertaining films of last year which won PGA and Globe yet couldn't make the final five, blistering barnacles!)