DEAD MAN'S SHOES (2004) - 4 STARS
"God will forgive them. He'll forgive them and allow them into Heaven. I can't live with that"



My passion for gritty British films over the last couple of year had been supported by watching some very brutal but realistic pictures including TRAINSPOTTING (1996), NIL BY MOUTH (1997) and THIS IS ENGLAND (2006). All these films added to how harsh British society is, with the mixture of drugs, violence and racism all accounted for the social aspect of the country. Having been a fan of director Shane Meadow's most acclaimed production This Is England (as well as the current spin-off series which is currently broadcasting), I decided to look at his previous film DEAD MAN'S SHOES (2004), which sets the theme of family and vengeance in a story that would probably make a great hour long drama on BBC or ITV but yet gives itself a strong message about standing up and protecting those you care for. It is a straightforward morality tale: brutal, stark and nobody wins. It is simple in narrative, but the message is timeless.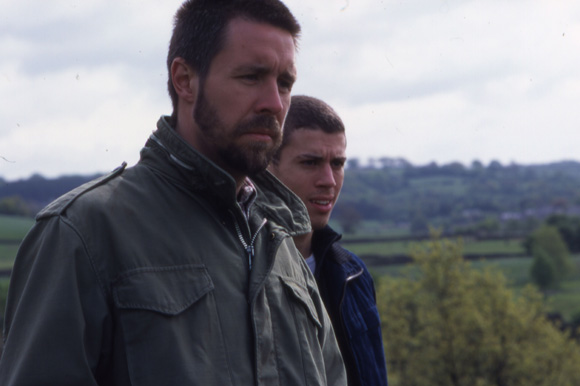 Ex-soldier Richard (Paddy Considene) returns to his hometown in the Midlands where he is planning something vengeful towards a gang of men, involved with drugs, who caused harm to his mentally challenged brother Anthony (Toby Kebbell) a few years ago. The gang led by malicious Sonny (Gary Stretch) start to become suspicous when Richard, wearing a gas mask, starts to unsettle various members of the gang who begin to know who he is. Several flashbacks reveal what the gang did to Anthony at their house such as make him smoke pot, have sex with a woman by force and get beaten around by Sonny when he refused to commit oral sex. Eventually after Sonny and Richard have a confrontation in the street, the gang's paranoia finally gets to them as they all try to stick together only for one of the men to be brutally slayed by Richard, leading to the gang seeking their own revenge. They all travel up to a farm where he is situated but an accidental moment leads to the gang fleeing and soon it becomes obvious that Richard will track them down. One by one they all eventually made to suffer at the hands of him and after showing no mercy towards them, he soon remembers that there is still one more person to find and confront as the realisation of Anthony's suffering is brought up.
What Meadows managed to create was a gritty and powerfully made low budget film demonstrated by a cleverly made story and make us show our support for Richard trying to gain his revenge on the gang. It is only when the truth about Anthony's incident emerges that we soon grow to hate the gang even more especially towards the film's climax. Its a dark film, but Meadows has a knack of using humour to ensure his work is never miserable or too depressing. For example the talkative Midlands exchange between the characters of Big Al (Seamus O'Neill), Herbie (Stuart Wolfenden) and Tuff (Paul Sadot) as they try to explain their situation to Sonny or even more shockingly the scene where Sonny accidentally shoots one of his own men with a sniper rifle is gloriously farcical. The cast itself works together well with a powerfully constructed performance from Considene who gives a convincing depiction of a man struggling to balance his desire for revenge and redemption and he invokes sympathy and fear from the audience in a performance to rival similar characters played by De Niro or Bronson. Kebbell excels in a stunning film debut with so much emphasis being placed in such a difficult role but he pulls it off brilliantly while Fletch stands out from the rest of the other cast with such a nerved performance where his character knows what his fate could be, as well as that Meadows also manages to use various characters from his other films to pop up e.g. George Newton (Gyppo) and Jo Hartley (Marie) whi also appeared in This Is England.
The cinematography is bluntly physical and realistic, the music well placed in the film. A terrific script from Meadows and star Considene give us a story that after an hour you think is over but is let down by Richard having one person to find which becomes the apparent focus, that lets it down for me, it becomes a little anti-climatic for the way a couple of the characters are killed but when we get to the ending, his aim for what he had to do does take away the excitement of it all. There are also numerous short spatial sequences that develop the plot regarding Anthony, and with the denouement we are more than aware of the brutality enacted on Anthony, but, ironically, never actually empathise with how brutal or damaging those acts were. Some say the film is also similar to GET CARTER (1971), which features the same kind of plot but sadly has not been appreciated by more audiences but could still become a British masterpiece in years to come. However provided they are happy with the lack of Hollywood polish, this is a film to be recommend to any lovers of the thriller genre. It becomes another notion of what these British films are aiming for, this is England through all the dark elements and on screen we just know it is.