NEW JAMES BOND FILM TO BE CALLED SKYFALL PLUS OTHER DETAILS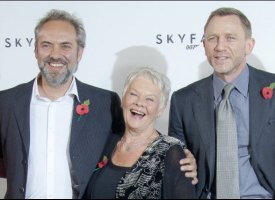 After a lot of waiting, I am pleased to announce that my first news article on this blog is in relation to the big report that one of the most popular franchises in film history is back with details emerging of the latest adventure for spy James Bond. Played with great aggressiveness by ex-Hilbre High student turned Hollywood star Daniel Craig, we have seen the series come back with a bang thanks to the box-office successes of CASINO ROYALE (2006) and QUANTUM OF SOLACE (2008).
However earlier today, new director Sam Mendes (Oscar-winning director of American Beauty), producers Michael G Wilson and Barbara Broccoli, and key members of the cast discussed the latest instalment in the long-running spy series. The new film is to be entitled SKYFALL and will be released in cinemas on October 23rd 2012 (less than a year away!). Craig makes his 3rd appearance in the series with Oscar-winning actress Judi Dench playing what could be her final appearance as M, who becomes the main focus of the film's synopsis.
"Bond's loyalty to M is tested as her past comes back to haunt her. As MI6 comes under attack, 007 must track down and destroy the threat, no matter how personal the cost."
Joining the film is an impressive supporting cast with newcomer Berenice Marlohe set to play Bond's new love interest with Naomie Harris (Pirates of the Caribbean) as a field agent. But adding to the wealth of versatile experience to the cast will be Oscar-winner Javier Bardem (No Country for Old Men), Ralph Fiennes (Schindler's List, Harry Potter) and Albert Finney (Tom Jones), an awesome lineup even for a blockbuster (apart from Batman and Potter of course).
With this coinciding with the 50th Anniversary of the 1st Bond Film, 007 fans will be in for a real treat!