THE GIRL WITH THE DRAGON TATTOO (2011) - 3 1/2 STARS
"She's one of the best investigators I have. I'm concerned you won't like her. She's different."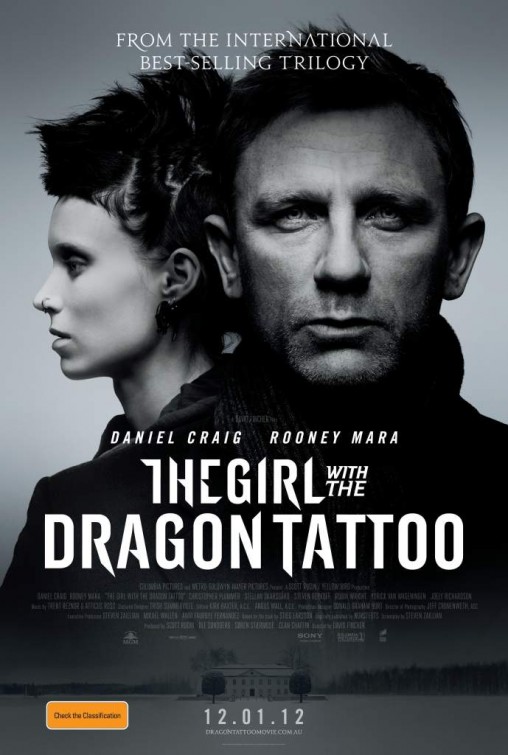 After being left slightly disappointed with the Sherlock Holmes sequel last week, I channelled it as a clear example of a remake/sequel which didn't quite capture the magic of its predecessor. Once again though, I find myself in deja-vu territory again, this time with one of the most highly anticipated films of the year; the Hollywood remake of the Swedish crime thriller The Girl with the Dragon Tattoo. I hoped it would live up to the hype after its cleverly constructed trailer (with that loud and frenzied cover of Immigrant Song by Karen O combined with the edited scene shots from the film) released earlier in the year which caught my eye and the more, I watched it, the more I wanted to see what the fuss was about. This year had been captivating and enriched with sublime films which was why it had to end with something gripping to let me reflect on the last 12 months of cinema with pride, which was why I hoped that Fincher, Craig, Mara and co. would provide that....
In Sweden, after being sued for libel damages by a wealthy businessman for writing an incriminating report about him, disgraced journalist Mikael Blomkvist (Daniel Craig) is approached by elderly millionaire Henrik Vanger (Christopher Plummer) about helping him solve the case of his missing niece Harriet, who disappeared from the family home over forty years ago and is feared dead. As part of his investigation, Mikael delves into Vanger's family history to find that some of his relatives are of corrupted mind whether they be involved with the Nazi's or being anti-Semites though there are a couple of exceptions including Harriet's brother Martin (Stellan Skarsgaard). Soon Mikael requires help on the research side of things and gets it from a (tattoo and pierce covered) computer hacker named Lisbeth Salander (Rooney Mara), whose aggressive and intimidating personality (especially towards men) enables her to strike an unlikely partnership with him. Together they merge deeper into the case, as they uncover significant details which link Harriet's disappearance to the murders of other women who may have all been killed by the same person....
By today's standards there has been some disappointing remakes particularly of foreign films (with the exception of The Departed), and not surprisingly there was uproar when a remake of Dragon Tattoo was announced. However with the director of Fight Club, Se7en and last year's The Social Network helming it, there was never any concern over whether the film would bomb compared to its original. From the very start, you are hooked straight away by its mesmerising opening credits with the cover of "Immigrant Song" playing over fluid visuals, straight away showing the style that Fincher has created with most of his films. With the help of talented screenwriter Steve Zallian, his version of Dragon Tattoo sticks closer to the successful Steig Larsson novel than the Swedish version did and it allows those who've seen the original film to discover some additional scenes to this version which give more depth to the story e.g. Mikael's estranged relationship with his daughter and the alternative ending. It's crisply edited and beautifully shot (the Swedish wintery countryside never looked more bleaker), capturing the essence of his film-making and showing promise as a future auteur in cinema. He also works again with last year's Oscar-winning composer duo Trent Reznor and Atticus Ross who add tension to their haunting musical score to assist with the story's dark tone. As one part of the central duo Craig gives a subdued performance which doesn't require him to be all guns-blazing like his Bond character but he does add subtly to the role but it is his female co-star who is the true star of the film. Mara whose scene-stealing turn as Mark Zuckerburg's betrayed ex Erica Albright in Social Network caught my eye, gives a physically challenging performance that is easily one of the most difficult to play. Lisbeth Salander is vulnerable, raging, and a little crazy sometimes (as some people will find out) which is what original star Noomi Rapace did brilliantly in the original. But Mara's sweet look is completely altered for the character with the tattoos, piercings, toughness and yes, nudity all added in to create a tortured and gritty role as she commands almost every scene with such intensity and rawness (particularly the rape scenes which are a tough viewing in both versions). The rest of the talented cast mostly add their own unique style to the film with Plummer showing warmth as Henrik and Skarsgaard creepy as the nephew with something to hide with Steven Berkoff, Robin Wright and Joely Richardson also involved.
Watching the original film first was probably the wisest decision I could have made before seeing this version. And yes there are some slight differences here which aren't pulled off as well as they were in the Swedish version. Certain scenes are left out in order to try make the story flow more which can confuse fans of both book and first film, an example being the lack of back story behind Lisbeth who we learnt had a troubled family history but that isn't explained in proper detail compared to the original. All we see is a young woman in serious need of an attitude adjustment. Some characters aren't quite as well presented here as we've seen in other forms e.g. while I did enjoy Craig's performance, his Mikael isn't quite as insecure as Michael Nyqvist was whilst some of the Vanger characters including Henrik himself don't feature in as many scenes here. Finally whilst the ending here was more faithful to the book (and more extended), it does leave you downbeat especially for Lisbeth's character whereas the original's ending was much more satisfying, though that seems to have been the theme with most films in 2011 being let down by shoddy finishes.
VERDICT: Though it's just as dark and uncomfortable as the original, Fincher's Dragon Tattoo lacks in substance and is not his best effort though Mara's dedicated and fierce portrayal of Lisbeth is harrowing to watch. Just for once, Hollywood has done a satisfactory remake that rounds off another supreme year for film...