CRAIG'S FILM OF THE YEAR AWARDS 2011 PART 2 (INC. TOP 10)
Following on from yesterday's post which contained various awards (mostly technical), it is now time to get serious with my awards for screenplay, directing, acting and yes, the Top 10 films of the year! Most intriguing....
BEST ORIGINAL SCREENPLAY
OTHER CONTENDERS
BLACK SWAN

BRIDESMAIDS

THE FIGHTER

TYRANNOSAUR

WARRIOR
BEST ADAPTED SCREENPLAY
OTHER CONTENDERS
THE ADVENTURES OF TIN TIN: THE SECRET OF THE UNICORN

HARRY POTTER AND THE DEATHLY HALLOWS PART TWO

THE INBETWEENERS MOVIE

MONEYBALL

WE NEED TO TALK ABOUT KEVIN
BEST DIRECTOR

TOM HOOPER - THE KING'S SPEECH

OTHER CONTENDERS
DARREN ARONOFSKY - BLACK SWAN

PADDY CONSIDINE - TYRANNOSAUR

MARTIN SCORSESE - HUGO

TATE TAYLOR - THE HELP

DAVID YATES - HARRY POTTER AND THE DEATHLY HALLOWS PART TWO
BEST SUPPORTING ACTRESS


JESSICA CHASTAIN (CELIA FOOTE) - THE HELP
OTHER CONTENDERS
HELENA BONHAM CARTER - THE KING'S SPEECH

BRYCE DALLAS HOWARD - THE HELP

MELISSA LEO - THE FIGHTER

OCTAVIA SPENCER - THE HELP

HAILEE STEINFELD - TRUE GRIT

BEST SUPPORTING ACTOR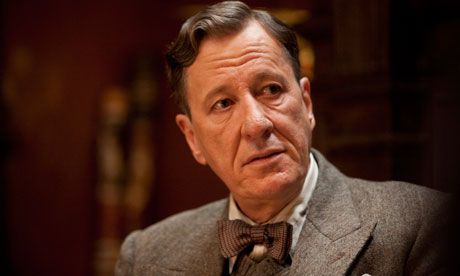 GEOFFREY RUSH (LIONEL LOGUE) - THE KING'S SPEECH
OTHER CONTENDERS
CHRISTIAN BALE - THE FIGHTER

KENNETH BRANAGH - MY WEEK WITH MARILYN

BEN KINGSLEY - HUGO

ERZA MILLER - WE NEED TO TALK ABOUT KEVIN

NICK NOLTE - WARRIOR

BEST ACTRESS


NATALIE PORTMAN (NINA SAYERS) - BLACK SWAN
ROONEY MARA (LISBETH SALANDER) - THE GIRL WITH THE DRAGON TATTOO
OTHER CONTENDERS
OLIVIA COLMAN - TYRANNOSAUR

VIOLA DAVIS - THE HELP

TILDA SWINTON - WE NEED TO TALK ABOUT KEVIN

MICHELLE WILLIAMS - MY WEEK WITH MARILYN

BEST ACTOR
COLIN FIRTH (KING GEORGE VI) - THE KING'S SPEECH
OTHER CONTENDERS
JAMES FRANCO - 127 HOURS

TOM HARDY - WARRIOR

PETER MULLAN - TYRANNOSAUR

GARY OLDMAN - TINKER TAILOR SOLDIER SPY

BRAD PITT - MONEYBALL
FILM OF THE YEAR


#10. THE INBETWEENERS MOVIE
Harry Potter wasn't the only spectacle wearing lad to say farewell to us this summer, as the not-so-magical Will McKenzie and his 'friends' Simon, Jay and Neil set off on a lad's holiday to Malia where their awkward problems continued to trouble them in the big screen version of the popular Channel 4 series. However even when it came to sharing a coach with loud Burnley fans, staying in a crap hotel, performing one of the most cringeworthy dances and being terrorised by kids, bullies and ants, they still stuck together as mates and eventually found love with four holidaying ladies (after 3 series Simon FINALLY realised that Carli wasn't his true love). But will we see our four benders on screen ever again?
#09. RISE OF THE PLANET OF THE APES

One of the surprise hits of the year came from this entertaining prequel to the original Planet of the Apes franchise looking at how the apes would eventually overpower Earth. A decent cast including James Franco, Frieda Pinto and Harry Potter's Tom Felton was overshadowed by Andy Serkis's insecure portrayal of Caesar which gained plaudits from many critics and audiences. Like Gollum and Kong before him, Serkis and CGI had once again combined to create a visually outstanding character who looks and moves like a real ape as we become attached to him, take pity on him and eventually cheer him on when he and his fellow apes cause havoc in San Francisco. Looking forward to the sequel already!
Moving away from his usual gritty work, Martin Scorsese wowed us with his visually stunning tale of a young boy hiding away in a train station who tries to find a hidden message from his father and soon discovers that it all links to classic cinema from his involvement with a former director. From beginning to end, Scorsese takes us on a magical adventure as we left in awe of the mesmerising detail put into early 20th century France (looking even better in 3D) as well as being treated to his splendid homage to the early rise of film. Impeccable cast, breathtaking visuals and a love letter to true film buffs only proves why Oscar will love it. Most will think "Scorsese doing a family film"?! Yes but didn't he do it well?
The first of two sports films involving family rivalry on this list, David O'Russell's bruising biopic about boxer Mickey Ward's desire to be a contender focuses more on his relationship with his interfering family including drug-addicted former fighter Dickie and his domineering mother Alice (Oscar-winning roles from Christian Bale and Melissa Leo) to hold him back. The hardships of family loyalty are displayed strongly here as Mickey looks to change his routine but faces being ridiculed for it, and it is to the credit of Mark Wahlberg to put a lot into his character (having also produced the film) as we realise this ain't like Rocky. It's rough and harsh with the way we view the characters especially Dickie, but it stays faithful to its true-life factor and excels as a gritty sports film with a flawed athlete.
#06. THE HELP

A celebrated film from this year, Tate Taylor's charming and at times harsh film showed us the African-American maid's perspective on their treatment prior to the Civil Rights movement with a white journalist deciding to tell their story. Though mostly female-dominated, the film does feature a fabulous female ensemble with the underrated Emma Stone overshadowed by her sublime co-stars including the subtle Viola Davis, the snappy Octavia Spencer, the adorable Jessica Chastain and the despicable Bryce Dallas Howard. The racial backdrop of the film's setting proves how cruel society could be back then, though thankfully there are moments to cheer especially for our African American heroines, but for one thing you won't be eating chocolate pie anytime soon....
Yes you'll be thinking this is a bit like deja-vu, a sports film about a broken family on this list. But whilst The Fighter was able to show a more loyal family bond between its characters, Warrior gives a more bleaker look at how family ties can't always be mended. Gareth O'Connor's severely underrated drama about two brothers who find themselves competing in a UFC tournament to try and change their lives via a huge cash prize was considered a box-office disappointment, but to me it was one of the unlikely triumphs of the year. Towering performances from pre-Bane Tom Hardy, Joel Edgerton and the superb Nick Nolte provide the emotional bitterness of their characters while the bone-crunching fights feel, look and sound realistic. A knockout film which deserves more attention and hopefully will win more people over.
Though this didn't get more attention in my awards section, Tin Tin was always going to rank high on the list as Steven Spielberg and Peter Jackson worked long and hard to create another unlikely hit from 2011. Slickly adapted from the children's comic book, we follow the young adventurer and his pet dog in their quest to find treasure, allowing us to be treated to a rollicking action-adventure combined with stunning imagery that would make the Indiana Jones franchise proud. Along with its colourful characters (voiced by some big names including Andy Serkis and Daniel Craig) and witty writing as well, it kept me entertained throughout and is probably one of the most epic Animated films you'll ever see. It was the motorcycle chase sequence which won me over, the perfect action scene that leaves you jaw-dropped throughout that exciting five minutes. A new franchise is born....
A luscious and deceitful film, Aronofsky's psychological thriller makes it into my Top 3, in probably one of the darkest films I've seen in my filmography. The story of a ballerina who lands the lead role in Swan Lake only to lose her mind over her commitment to the role required a physically draining performance from its leading lady Natalie Portman who deservedly scooped the Best Actress Oscar for her role. Its focus on some of the situations her character finds herself in, is at times disturbing (cuticles and split toenails anyone?) and leaves you aghast at how much a role can affect a person. The seductive Mila Kunis adds spice to the film and there's no denying the hotness of her and Portman's sex scene, which only adds to the craziness of it all. But it's the Swan Lake performance at the end which provides the manipulative finale as Nina's madness finally gets the better of her, a marvellous end to one of 2011's best films.
#02. HARRY POTTER AND THE DEATHLY HALLOWS PART TWO

Despite my passion for the climatic finale, Deathly Hallows Part Two just missed out on number 1, as one of the most celebrated franchises came to a thunderous conclusion. After seven films of magical adventure, the series came to an end with Harry finally overcoming his nemesis Lord Voldemort (with a little help from Neville Longbottom) and saving Hogwarts from destruction. David Yates deserves credit for taking charge of the final few films and adding a dark tone to it, with Deathly Hallows Part Two a fitting way to finish the series with action, romance and tragedy all mixed in to create a fitting finale with key characters killed off in the process. Yes it may not have been quite faithful to the novel but it still kept its audiences entertained with detail on crucial scenes particularly Snape's memories and the epilogue where we see Harry and co. as older people. Not to mention that the franchise did well to attract so many talented actors to produce probably one of the best ensembles ever placed in a franchise. Goodbye Harry, Ron and Hermione, you will be missed by many!
#01. THE KING'S SPEECH

My winner of Film of the Year goes to a film which had plenty of momentum built around it particularly as an Oscar contender. Considering that I shared a cinema that was full of old people, I expected the target audience to be of the elderly variety. But to my surprise, I adored the film for what it sent out to do, to inspire people like myself. The triumphant story of King George VI's struggle to overcome a stammer, charmed audiences with its sublime performances from Colin Firth, Geoffrey Rush and Helena Bonham Carter (and many more), its witty script containing sadness and humour and the attention to detail taking us back to the 1930s of Britain all thanks to unknown director Tom Hooper. Firth especially commands the film with his impeccable portrayal which deservedly won him the Best Actor Oscar though Rush's performance is just as important. The King is someone to sympathise throughout, and we support him especially in his speech sessions and the scene where his brother Albert taunts him. But when faced with responsibility, it is the speech scene towards the film's ending (one of the best scenes of the year particularly for its use of Beethoven's haunting Speaking Unto Nations) which puts our King in a daunting position as he tries to assure his people prior to the arrival of World War II yet pulls it off successfully. A b-b-b-brilliant film that deserves its recognition, and keeps British cinema on top of its game.
Thank you all for reading this, have a Happy New Year and good luck in 2012!