THE ADVENTURES OF TIN TIN: THE SECRET OF THE UNICORN (2011) - 4 1/2 STARS
'This year, discover how far adventure will take you.'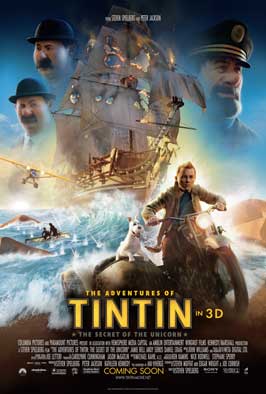 Animated films have been somewhat lacking this year compared to the brilliance of Toy Story 3 last year (though Rango is said to be terrific) but now that has changed thanks to two cinematic giants who have combined together to bring the comic book story of Tin Tin back to life in a jaw-dropping and mesmerising action adventure that will hopefully bring the young adventurer back into the public eye after almost 30 years in exile. With the flamboyant use of motion-capture to add to the cinematic experience, it has taken a while for this film to finally take off, and there is no doubt that it has already impressed many people; young and old. But when you have a phenomenal film-maker like Steven Spielberg directing it, and another top-notch film-maker like Peter Jackson producing it, you know you're in for a treat....
After buying an elegant model of a ship called the Unicorn, young reporter Tin Tin (Jamie Bell) becomes concerned by a couple of different people offering to buy the model off him, one of them being a sinister man named Sakharine (Daniel Craig) who wants it for a personal reason. After the model goes missing, Tin Tin discovers a mini-scroll inside the model, more information surfaces about possible treasure and accompanied by his loyal dog companion Snowy, sets out to discover the truth only to be kidnapped by Sakharine and kept on-board his ship. However during their escape they team up with the boisterous drunkard Captain Haddock (Andy Serkis) whose ancestor it turns out was the captain of the original Unicorn ship many, many years ago. Both of them realise that there is the possibility of treasure hiding somewhere across the globe and soon a rip-roaring adventure begins for them as they race to find two other mini-scrolls that could point the whereabouts of the fortune knowing that they have to beat Sakhraine to it. The group's quest spans the globe, with each destination bringing more danger and that crucial step closer towards unravelling the mystery....
From the moment the film starts, the tone and mood is set: mystery and adventure merged with fun and frolics. It is surprisingly very funny with a cracking script (one of the writers being Edgar Wright of Hot Fuzz), and well-paced so that young children will have no trouble picking up what's going on, before allowing the incredible roller coaster ride of the second and climatic act to come in. It stands out as a visual spectacle with mind-blowing effects from the all-important action sequences including a long tracking-shot of the intense chase sequence through the flooding streets of a North African city which is simply mind-blowing to watch and proves why no other film-maker can match Spielberg when he lets his imagination out. On the other hand the close-up imagery of Tintin and Haddock as they trek through a desert indicates the clear example of just how magnificent technology is in this day and age, a visually outstanding film all round. The voice casting is also spot on and well picked by the two directors. Bell succeeds in the hard challenge to provide the audience with a convincing and faithful interpretation of the beloved protagonist but the ever consistent Serkis steals the show as Captain Haddock and is given great dialogue to growl through a bitter Scottish accent and is unpredictable and colourful in all the ways Tintin himself isn't. Craig voices the bad guy role decently and at times his voice is unrecognisable while the hilarious double act of Simon Pegg and Nick Frost are side-splitting as the bumbling police officers Thomson and Thompson.
And yes Snowy may just be one of the great on-screen pets in film, hilarious and cute at the same time. The film also sees the long-awaited return of composer John Williams who provides yet another dazzling and effective score though some will compare snippets of it to Indiana Jones or Catch Me If You Can. However it does capture the essence of the film in an instant and shows just how much you realise this is a Spielberg film.
Devoted Tin Tin films will no doubt enjoy this film for its visual beauty but some of the notable changes to it from the comic books will disappoint them a bit e.g. the sheikh is nowhere near the drug baron as portrayed in the comic book. At times as well, you can't help but think that Tin Tin is sidelined in favour of Haddock who despite having the deeper character development is sometimes more focused on than the young reporter which could take away the whole meaning of it being The Adventures of "Tin Tin". And finally although the film is visually stunning, some people may tire of the various action sequences which either go on too long or are simply over-the-top, though this is only what some people think when it comes to CGI-fested films!
VERDICT:
It has plenty to offer audiences of all ages as an incredibly thrilling and humorous adventure with
two of my favourite directors providing an excellent debut collaboration together and beginning what should be a very successful franchise in the next few years. Blistering Barnacles I loved it!