CRAIG'S TOP 100 FILMS - 90-81
90#. SCENT OF A WOMAN (1992)
Director: Martin BREST
Starring: Al PACINO, Chris O'DONNELL, Phillip SEYMOUR HOFFMAN
WHY?: A well-balanced story spearheaded by a fiery performance from the sublime Pacino as blind war colonel Frank Slade who gets looked after by naive student Charlie (O'Donnell), but decides to get up to wild antics like tango dancing and driving a sports car while showing bitterness about how his life has turned out. Pacino deservedly won his long-awaited Best Actor Oscar showing that he could do a great job playing subtle and humane characters compared to the likes of Michael Corleone or Tony Montana. And prior to playing Robin in the ill-fated Joel Schumacher Batman series, O'Donnell proved just as effective in this charming tale.
BEST SCENE: While the tango scene is loved by many, it's the school trial scene that impresses me the most, providing one of Pacino's finest hours in acting as Frank gives a passionate monologue about the traumas of his life in order to save Charlie from being wrongfully excluded.
Director: Daniel BARBER
Starring: Michael CAINE, Emily MORTIMER, Ben DREW, Liam CUNNINGHAM
WHY?: Another controversial pick on the list which ends up above some classics but still suspenseful to watch as Michael Caine brings Get Carter into the 21st century with a subtle yet ferocious performance but whilst another gritty British film THIS IS ENGLAND represented the struggles of the 1980s, Dan Barber's film reflects our rough modern society as ex-Marine Harry Brown decides to go solo in tackling a gang of chavs who were responsible for the death of his friend in the mean streets of London. Yes it's the British version of Death Wish but it really does present to us one of the big problems with our generation and there's no denying the riot scene near the film's ending is eerily familiar to the recent riots back in August.
BEST MOMENT: A real edge-of-your-seat moment as Brown goes gun-shopping and finds himself in a horrible building with a grass farm where he faces intimidating drug-dealers but within the blink of an eye manages to overpower them with such brutality. Finished off clinically by the sinister line "You failed to maintain your weapon son"!
88#. SHUTTER ISLAND (2010)
Director: Martin SCORSESE
Starring: Leonardo DI-CAPRIO, Mark RUFFALO, Ben KINGSLEY, Michelle WILLIAMS
WHY?: In one of the most gripping and suspenseful films on the list, Scorsese continued to prove why he is one of THE great directors in history with an underrated psychological thriller that provides a clinical twist as Di-Caprio's disturbed FBI agent investigates the disappearance of a female patient on a secluded island for the criminally insane. Dark, harrowing and at times disturbing, this film provides one of Di-Caprio's best performances and a cracking supporting cast to boot (did I forget to mention Mortimer, Von Sydow, Earl Haley, Clarkson, Levine too?) and a sinister story that engages us until the very end when all is revealed....
BEST MOMENT: The confrontational showdown in the lighthouse between Teddy and Dr Cawley where the shocking truth is revealed to Teddy about his past and who patient 67 is. The flashback to how everything happened is vicious and appalling even for audiences to bear though it makes us understand his actions in a way.
Director: Guy RITCHIE
Starring: Jason STATHAM, Stephen GRAHAM, Brad PITT, Vinnie JONES
WHY?: I was close to picking LOCK, STOCK AND TWO SMOKING BARRELS (1998) ahead of this, but I felt in the end that SNATCH is regarded as a better film with a starrier cast and a well-paced story supported by hot-shot editing and a snappy script too. Plus it has Hollywood star Brad Pitt and Frank Butcher from Eastenders starring in the same film! This craziness sees a group of criminals including boxing promoters, violent bookmakers, a Russian gangster, incompetent amateur robbers, and supposedly Jewish jewelers fight to track down a priceless stolen diamond. Add in the dark humour and slow-motion boxing matches and you have a really wacky British gem.
BEST MOMENT: The showdown at the Drowning Trout which sees various characters getting hold of the diamond only to be compromised by their own stupidity. Plus we have ex-footballer Vinnie Jones being as intimidating on screen as he was on the football pitch!
Director: Clint EASTWOOD
Starring: Angelina JOLIE, John MALKOVICH, Jeffrey DONOVAN
WHY?: Like with SHUTTER ISLAND, this film posses dark and sometimes harrowing moments when it comes to crime as single mother Christine Collins (Jolie) struggles to gain support from a corrupt force (the LAPD) in 1920s Los Angeles, after her son goes missing. This true story shows the many faults of the police as shown on screen as the whereabouts of the boy are never revealed until a shocking confession half-way in the film. Jolie sheds the sexiness and gives a heartbreaking performance as a mother determined to get her son back but faces ridicule from the law and attempts to overcome them with courage and hope. One of Eastwood's best with stunning use of colour and costumes to boot.
BEST MOMENT: A scene not involving Jolie but a powerful and crucial moment half-way in the film from youngster Eddie Alderson as Sandford Clark, who confesses to an officer that he and his insane uncle (the scary Jason Butler Harner) were responsible for the kidnapping and subsequently brutal murders of several kids, revealed in appalling flashbacks. Brilliantly acted and edited with swift pace.
Director: Neil JORDAN
Starring: Bob Hoskins, Cathy TYSON, Michael CAINE
WHY?: Prior to making THE CRYING GAME, Neil Jordan made this gritty thriller which shows the murkiness of London (once again) as ex-con George (Hoskins) returns to the criminal underworld to work for his boss Mortwell (Caine) who hires him to work as a chauffeur for call-girl Simone (Tyson). She pleads for his help in tracking down her friend, a fellow prostitute, who is hiding out somewhere in the rotten streets for which Bob agrees to help. The fiery cockney actor gives a career-best performance as his angry character struggles to settle back into a normal life, as London is once again the focus of a crime-ridden society. We Brits do love to make our country look rotten on screen....
BEST MOMENT: Again another showdown gets my favourite scene from a film as George and Simone are chased through the promenade of Brighton by Mortwell's henchmen before being confronted by the boss himself in their hotel. A suspenseful couple of moments finished off with a bad-ass death scene!
84#. THE DAMNED UNITED (2009)
Director: Tom HOOPER
Starring: Michael SHEEN, Timothy SPALL, Colm Meaney, Jim BROADBENT
WHY?: The recent success of THE KING'S SPEECH was mostly down to the hard-work of director Hooper, who before making it, gave audiences a worthy debut film with a fascinating biopic about the controversial football manager Brian Clough (Sheen) focusing on his success with Derby County before the ill-fated (and brief) tenure in charge of Leeds United. The ever consistent Sheen was simply brilliant as the witty but fiery Clough though Spall and Meaney lend solid support. The 70s setting is admirably detailed from cinematography to soundtrack and certainly while many see it as a TV film, it does itself justice on the big screen too with the football segments, a treat for footy fans!
BEST MOMENT: The TV interview involving both recently sacked Leeds manager Clough and his nemesis former Leeds manager Don Revie, as their two egos go head-to-head with so much jealousy and bitterness pouring out of each other as the debate gets feisty.
Director: Baz Luhrmann
Starring: Nicole KIDMAN, Hugh JACKMAN, David THEWLIS, Brandon WALTERS
WHY?: While I wasn't fussed on Luhrmann's MOULIN ROUGE, he won me over with this glorious and shiny epic that presents the country of Australia in all its beauty. Englishwoman Kidman travels there in WWII to find her husband murdered but has a duty to deliver his cattle to the big town with the help of rugged but handsome Drover (Jackman) and Aborigine boy Nullah before the threat of war causes great danger for everyone. Kidman and Jackman are simply sweet together though Walters overshadows them with a courageous performance (one of the best child roles in film) but overall, the technical department deserves the most credit for its stunning all-round production. Good day mate!
BEST MOMENT: A rather intense moment half-way in when the evil Fletcher (Thewlis) causes the huge herd of bulls to go on a rampage which could lead them all falling off the cliff. However little Nullah comes to the rescue with great restraint as the bulls charge towards him....
Director: Joel SCHUMACHER
Starring: Michael DOUGLAS, Robert DUVALL, Barbara HERSHEY
WHY?: When we first watch this 90s gem, we feel for the frustrated William Foster (Douglas) as he suffers a breakdown in LA and embarks on a rampage across the city to get to his daughter's birthday though we realise from wife Beth (Hershey) that he isn't going to be allowed anywhere near her. Some of the things Foster does in the film are worth cheering for e.g. confronting a gang of Puerto-ricans and killing the neo-Nazi, but there is great sinister motives in his mind and as the film goes on we know by then, that he is a complete madman. Douglas gives probably his best performance in a film that flows well with memorable scenes but also shows how easily people can lose it when the heat is on.
BEST MOMENT: Almost picked the clip above, but for fast-food fans, they'll understand the frustrations that Foster displays when he causes a scene at a local diner. Don't annoy a man with a gun by telling him that breakfast has finished or that the burger he gets is too small compared to what it looks like on the picture!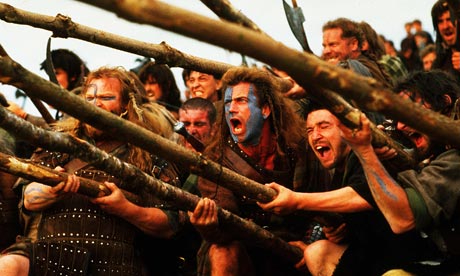 Director: Mel GIBSON
Starring: Mel GIBSON, Sophie MARCERAU, Patrick MCGOOHAN
WHY?: Mel Gibson was rather busy with this film wasn't he? In this rollicking Oscar-winning epic, he portrayed the Scottish war-hero William Wallace who after the tragic murder of his wife, decides to avenge her death by declaring war on the English, rounding up as many Scots as possible to stand and fight against the tyranny. The Aussie actor worked hard to get the film made and despite its flaws, is a bruising and well shot picture with (very) violent battle scenes and very detailed with its focus on the time it's set. Clearly a homage to Kubrick's SPARTACUS (1960), it is a film about freedom and honour that gets mentioned in it a lot but provides inspiration and makes many Scots proud!
BEST MOMENT: The first battle scene which builds up thunderously before unveiling itself with a war sequence that is as gory as you'll ever see in film (until Saving Private Ryan that is!) with plenty of body parts being chopped off but of course, really showing how brutal and bloody war could really be especially in that period of history!