SHAME (2011) - 4 STARS
"We're not bad people. We just come from a bad place."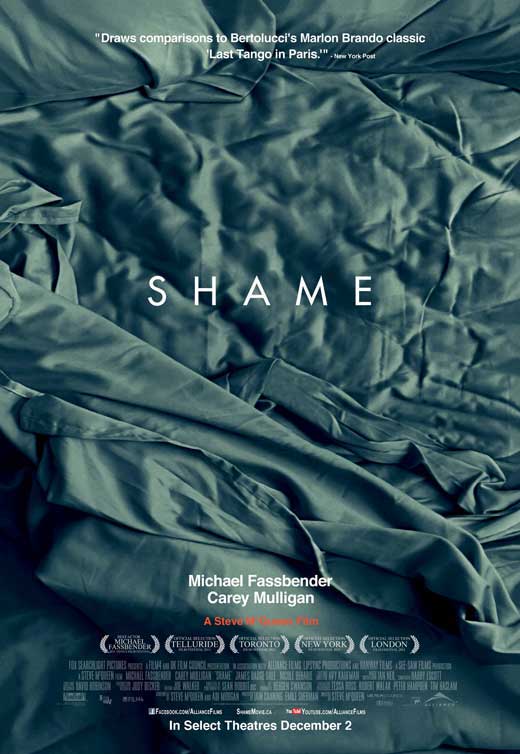 Starring: Michael FASSBENDER, Carey MULLIGAN
Back in 2008, Steve McQueen (the director, not the actor) won the Carl Foreman award for Best Newcomer at the BAFTAs for his creation of the IRA drama Hunger (beating off competition from my previous employer's film Of Time and the City amongst others). Though it's been three years since his achievement, he finally returns to the limelight with his latest yet equally brutal follow-up film; Shame. Whilst Hunger looked at the true story of IRA prisoners going on a hunger strike, Shame goes even deeper with its exploration of sex addiction shown as realistic as you can get with a film about sex thanks to a career defining (and brave) performance from his collaborating actor Michael Fassbender. Together the pair create another tense and troubling film that is sure to shock audiences with its amount of sex and nudity but also proves that McQueen isn't afraid to hold back when it comes to gritty film-making....
In New York, businessman Brandon (Fassbender) lives alone in his apartment and tries to make himself seem like a normal man with a successful office job. But at the same time, he has one major flaw which separates him from other typical men. He has an uncontrollable sex addiction which takes over his life whether it be sexual encounters with various women or using his work computer to look at Internet porn. Although he mixes in with his colleagues at work, it is clear that sex is his main desire until things are complicated by the unexpected arrival of his disruptive sister Sissy (Mulligan). Though she has talent as a singer, her flirty personality (particularly towards Brandon's boss) distracts her brother during his complicated lifestyle. He grows increasingly frustrated with her to the point where hints of their traumatic childhood are brought up as his paranoia follows him around during his pursuit of other women. But it is clear that intense 'shame' over his lifestyle starts to make him more guilty as he struggles to overcome his addiction knowing that if he doesn't, it could destroy him and maybe Sissy too....
There is no shame (excuse the pun) about what McQueen has created here with one of the most powerful films of the year, which is made even more ironic that it is actually a British production similarly to Lynne Ramsay's We Need to Talk About Kevin, similarly as gritty and harrowing. Though the story isn't really detailed, Shame is more a fascinating character study of a man who seeks to discover genuine human affection, but is more distracted by his own sexual predatory. Yet when we see him at work, he seems like your average workaholic. From beginning to end, Brandon is the main focus of the film and throughout the camera is always on Michael Fassbender whether he be fully clothed heading to work or stark naked during sexual activity. Even seeing him wander around his apartment in the nude just to use the toilet, proves that McQueen is willing to go far with the explicitness of Brandon's sexual obsession especially his sex scenes which are quite gratifying on screen. In other words, sex is as important to this film as drugs was to Danny Boyle's Trainspotting (1996). The searing musical score by Harry Escott only heightens the intensity of Brandon's quest for sex with the best example being his focus on a pretty subway passenger who catches his attention (a similar sequence happens in the film's open-minded ending). Undoubtedly Fassbender is stunning as Brandon whose struggle throughout is torturous to watch with the Irish/German actor conveying the voyeuristic urge and raw intensity to give a pitch-perfect performance which doesn't necessarily require him to speak much throughout yet showing the bravery of his role when it comes to stripping off. After all that, an Oscar nomination surely beckons for him. Mulligan doesn't quite match up to the standards of her co-star but still submerges herself with a difficult role of a woman not knowing how to deal with her problems (though like Fassbender her first scene requires her to be naked). Her scenes with him are at times bitter including a moment where they watch television together, showcasing the talent of two underrated actors on top of their game and she even gets a chance to shine on the musical front with a beautifully performed rendition of Frank Sinatra's "New York, New York", showing that acting isn't her only talent on screen.
Though I was mesmerised by the film's audacity to shock, this is not the best one to watch in the company of people especially in a crowded cinema (poor me!). While the gratuitous sex/nudity is important to the film's story, it sometimes feels forced for the sake of it and most audiences will probably be put off by the constant imagery of Brandon walking around naked which can sometimes distract them from understanding the film. Added to that, McQueen and fellow writer Abi Morgan clearly aim an incestuous hint to Brandon and Sissy's relationship which comes across a little uncomfortable particularly the awkwardness of her first scene with her brother which most normal siblings would avoid like the plague. Their past is only mentioned in snippets and while it is best to have an open mind with some details, you only end up wanting to know more mostly when it comes to how Brandon's sex addiction first started.
VERDICT: Masterful in its intimate character study, Shame is another brutal production by McQueen which shows one man's trouble with sex addiction (maybe a little too much for some people) but its excellent performances from Fassbender and Mulligan continue to keep British cinema delivering when it comes to raw storytelling on screen.