CRAIG'S TOP 10 GENRE SERIES - GANGSTER
"

Gangster films

are a sub-genre of crime films dealing with organized crime, often the Mafia. Especially in early mob films, there is some overlap with film-noir."
Director:Francis Ford Coppola
Starring: Marlon Brando, Al Pacino, James Caan, Robert Duvall

#2. SCARFACE - 1983
Director: Brian DePalma
Starring: Al Pacino, Michelle Pfeiffer, Robert Loggia

#4. THE UNTOUCHABLES - 1987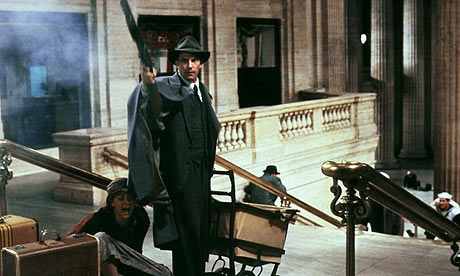 Director: Brian DePalma
Starring: Kevin Costner, Robert De Niro, Sean Connery
#6. ONCE UPON A TIME IN AMERICA - 1984

Director: Sergio Leone
Starring: Robert De Niro, James Woods, Elizabeth McGovern

#7. WHITE HEAT - 1947
Director: Raoul Walsh
Starring: James Cagney, Edmond O'Brien
#8. MILLER'S CROSSING - 1990
Director: Joel Coen
Starring: Gabriel Byrne, Albert Finney, John Turturro

#9. BONNIE AND CLYDE - 1967
Director: Arthur Penn
Starring: Warren Beatty, Faye Dunaway, Gene Hackman

#10. Bugsy Malone - 1976
Director: Alan Parker
Starring: Scott Baio, Jodie Foster

De Niro, Scorsese, Pacino, Pesci, DePalma; just some of the big names who have more than one film on this exceptional list

. One of my favourite genres and a very strong top 3 which was never going to see The Godfather lose here, second place was even tougher to predict with both Scarface and Goodfellas memorable in their own different ways. The next list will be History.