THE ARTIST (2011) - 4 1/2 STARS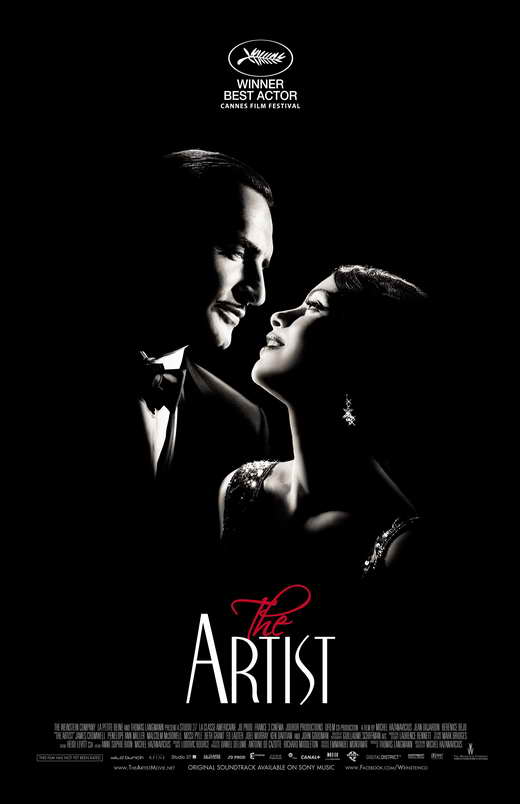 DIRECTOR: MICHEL HAZANAVICIUS
STARRING: JEAN DUJARDIN, BERENICE BEJO, JOHN GOODMAN
With awards season starting to take shape, the result of last night's Golden Globes brought good news for one of the best films of the year as the Harvey Weinstein produced hit The Artist scooped three awards including the Comedy/Musical Picture award. For many years , silent cinema seemed to have disappeared altogether especially when talking picture arrived back in the late 1920s and had since become a phenomenon in film since then. But this dazzling production takes us back to that time where action speaking louder then words was the best form of film-making only for the arrival of sound to effectively end silent cinema forever. Or so it seemed. After Martin Scorsese delivered his love letter to cinema with Hugo late last year, audiences were mesmerised by its stunning flashback to old cinema but now has been unseated as the true classical/modern day film which could secure itself Oscar glory come next month....
In Hollywood, 1927, silent film star George Valentin (Dujardin) relishes in his success as his latest silent film becomes another well-received hit (with a little help from his pet dog Uggie). After a chance encounter with Valentin, a pretty street girl named Peppy Miller (Bejo) manages to land a dancing part in his newest film and together, an undeniable spark develops between them. But over the next few years, silent movies fade into obscurity as talking pictures start to come around but Valentin tries to shrug it off believing it'll never last. However when he struggles for work he begins to lose everything including his wife who walks out on him and his prized possessions which he is forced to sell. Peppy on the other hand becomes the talk of Hollywood as her charisma and beauty helps her become a leading lady in various films though at the same time she tries to show her support towards George. But as his life continues to spiral out of control, he questions whether he has a purpose to carry on living but Peppy seeks to help him get back on track before it's too late.
The Weinstein's look to have another Oscar juggernaut on their hands after the success of another heartwarming film last year, The King's Speech and it is to the great credit of director/writer Michel Hazanavicius that he has worked on an immaculate and well-detailed film. In a time when we have 3D films, The Artist manages to overshadow most of the big blockbusters and allows us to feel like being part of another era of cinema. The story-line which relies on its silent roots has many moments of emotion and tension all delicately laid out by Hazanavicius's sparkling screenplay. It may lack dialogue but as they say once again, action speaks louder then words. 'Artistically' the film delivers when it comes to its depiction of the classical era of Hollywood with the cinematography beautifully filmed in black and white while the costumes are lavishing and accurate for the period its set in. Significantly though it is the musical score by Ludovic Bource which becomes dependent throughout as its usage in key scenes whether it be subtle or dramatic, adds the delightful touch to the film's magic and should hopefully secure an Oscar win in its category. Speaking of award potential, leading star Dujardin absorbs a lot of all round energy to his role thanks to his charisma and body language depicting a man whose sparkling career starts to fall apart. Looking at him on screen shows reminiscence of Gene Kelly in his embodiment of an actor in classical Hollywood and the comparisons are unsurprising. One key moment in the film showing Dujardin's dramatic side is the discomfort George shows in his nightmare scene when real sounds are heard. His beautiful co-star Bejo (who is also Hazanavicius's real life partner) gives the charm and freshness as Peppy's emergence in Hollywood is visualised from her first dance audition to the clever montage later in the film showing her rise into leading roles at George's expense. Clearly Bejo enjoys her role giving enough heart to provide the film's romance which doesn't go overboard but instead shows a more subtle understanding about the differing lives she and George have. The support cast lend worthy support though it's Goodman and James Cromwell who stand out lending peerless experience to the film while it's also nice to see 80s/90s actress Penelope Ann Miller making a comeback here as George's irritated wife. But the real scene-stealer of the film is George's canine pet Uggie who sparkles and puts a smile on everyone's face whenever he's on screen whether he be playing dead or covering his head with his paws.
What stopped me from truly loving the film more was its slight flaw in its storytelling and its usage of sub-titles. A couple of scenes left me a little confused over what certain characters were saying and what they had to offer with the film's story, and it seems Hazanavicius chooses to use dialogue only at the key points. The ending also feels a little rushed to the point where our character's fates seem to wrap up too quickly and you can't help but want more from the story though it does lead to a satisfying (and unexpected conclusion).
VERDICT: A charming and artistic homage to silent era cinema, The Artist dazzles its way towards potential Oscar glory with a heartwarming story supported by two terrific lead performances (and a scene-stealing dog!) that will delight everyone and leave many....speechless!