THE ARTIST SWEEPS BAFTAS WITH 7 WINS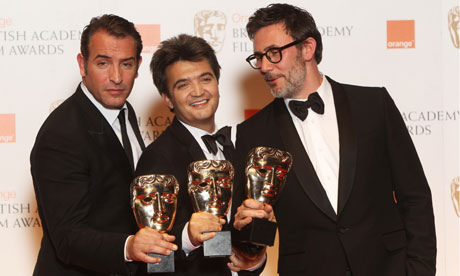 Classical Hollywood hit The Artist has continued its excellent awards streak in the run-up to the Oscars by cruising to seven wins at this year's star-filled BAFTA awards. The film claimed crucial wins in Best Film, Best Director for Michel Hazanavicus and a significant win for leading actor Jean Dujardin in Best Actor as well as wins in Original Screenplay, Cinematography, Costume Design and Original Score.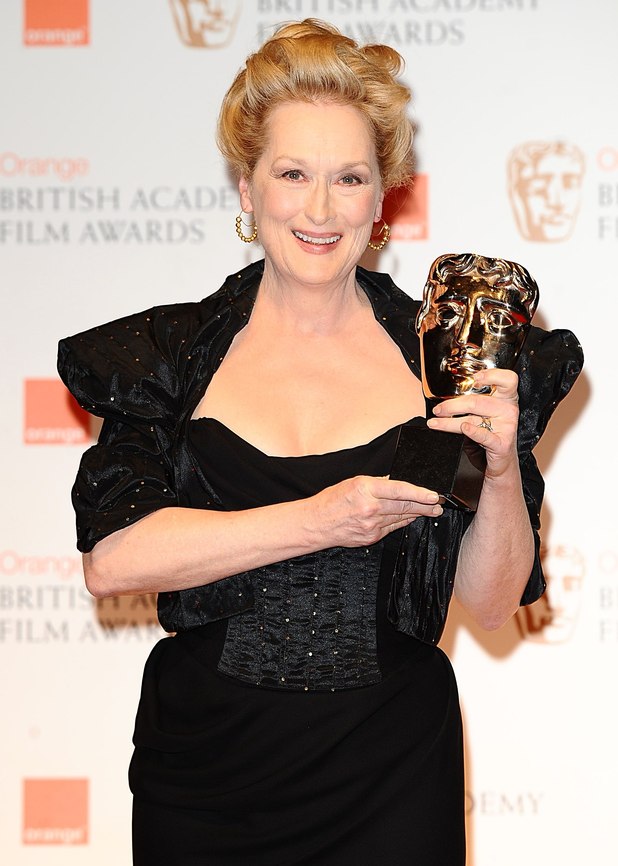 Dujardin beat off Hollywood heavyweights George Clooney and Brad Pitt plus British duo Gary Oldman and Michael Fassbender to win his award with plenty of charm in his speech.

Iconic actress Meryl Streep secured Best Actress for her towering performance as Margaret Thatcher in The Iron Lady, losing a shoe in the process as she went up to accept her award. Missing out included her Oscar rival Viola Davis, Michelle Williams and Tilda Swinton.

Christopher Plummer (Beginners) and Octavia Spencer (The Help) won the respected Supporting acting gongs for their performances with the exquisite Jessica Chastain once again missing out (boo!).

The snooze-fest that was Tinker Tailor Soldier Spy won Outstanding British Film beating off the likes of Shame and We Need to Talk About Kevin in the process and Adapted Screenplay. The Formula One documentary Senna won for its Editing and the prestigious Documentary prize.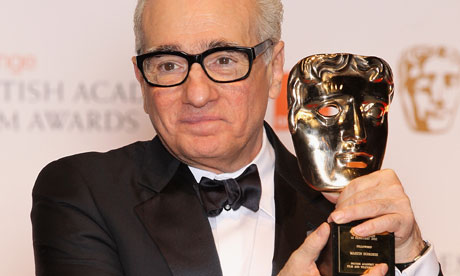 A welcoming win was Paddy Considine (a fellow Aspie) for his writing/directing debut for the ferocious Tyrannosaur while the hardworking Harry Potter franchise finished with the meager total of one BAFTA win altogether as Deathly Hallows Part Two won Best Visual Effects.

A shock result in the Rising Star award saw underdog Anuvahood actor Adam Deacon beat off the likes of Thor duo Chris Hemsworth and Bridesmaids's Chris O'Dowd win in the category whose previous winners included James McAvoy, Kristen Stewart and Tom Hardy.
Veteran British actor John Hurt was awarded the BAFTA contribution to cinema award for a career spanning five decades with films such as Alien, Midnight Express, and his finest hour The Elephant Man. A similar type of award (the final of the night) was the Fellowship which went to Hollywood legend Martin Scorsese for his outstanding direction over the past forty years for masterpieces like Taxi Driver, Raging Bull, Goodfellas and The Departed.
Opening with a solid musical number from Tom Jones and hosted with extreme wit throughout by the returning Stephen Fry, the ceremony and show proved another major success and a day which I would never forget as my blog post tomorrow will tell. Here is the official winners list:
BEST FILM: THE ARTIST
BEST BRITISH FILM: TINKER TAILOR SOLDIER SPY
BEST DIRECTOR: MICHEL HAZANAVICIUS - THE ARTIST
BEST ACTOR: JEAN DUJARDIN - THE ARTIST
BEST ACTRESS: MERYL STREEP - THE IRON LADY
BEST SUPPORTING ACTOR: CHRISTOPHER PLUMMER - BEGINNERS
BEST SUPPORTING ACTRESS: OCTAVIA SPENCER - THE HELP
BEST ORIGINAL SCREENPLAY: THE ARTIST
BEST ADAPTED SCREENPLAY: TINKER TAILOR SOLDIER SPY
BEST PRODUCTION DESIGN: HUGO
BEST CINEMATOGRAPHY: THE ARTIST
BEST COSTUME DESIGN: THE ARTIST
BEST MAKEUP: THE IRON LADY
BEST EDITING: SENNA
BEST SOUND: HUGO
BEST VISUAL EFFECTS: HARRY POTTER AND THE DEATHLY HALLOWS PART TWO
BEST ORIGINAL SCORE: THE ARTIST
BEST ANIMATED FILM: RANGO
BEST FOREIGN LANGUAGE FILM: THE SKIN I LIVE IN (SPAIN)
BEST DOCUMENTARY: SENNA
BEST DEBUT DIRECTOR/WRITER: PADDY CONSIDINE - TYRANNOSAUR
RISING STAR: ADAM DEACON
BAFTA CONTRIBUTION: JOHN HURT
BAFTA FELLOWSHIP
: MARTIN SCORSESE