MY WEEK WITH MARILYN (2011) - 3 1/2 STARS
"First love is such sweet despair"
Film biopics tend to be one of my favourite sub-genres when it comes to the portrayals of their famous/historical characters and the latest in that line to reveal itself is Simon Curtis's My Week With Marilyn, a charming story of an extraordinary week for one young man who gained the opportunity to work with an acting legend but even more overwhelming to get close and personal with probably the most beautiful woman of all time. As the award contenders continue to emerge, leading star Michelle Williams who gives another consistent performance is surely tipped to go head-to-head with the likes of Viola Davis (The Help) and Meryl Streep (Iron Lady) for the Best Actress Oscar in a film that does delight at times but is slightly flawed by some of its representations of character and a slow-paced narrative.
In the year 1956, privileged young man Colin Clark (Eddie Redmayne) heads down to London to try and get into the film industry and succeeds with getting the opportunity to work as a third director assistant to acclaimed actor Sir Laurence Olivier (Kenneth Branagh) at Pinewood Studios. Whilst there he meets wardrobe assistant Lucy (Emma Watson) and gets together with her, but his involvement in Olivier's latest film threatens to derail that relationship quickly as it turns out Olivier is developing a romantic-comedy called The Prince and the Showgirl which will star himself alongside Hollywood beauty Marilyn Monroe (Michelle Williams). Her presence on the set amazes everyone not least Colin is who wowed by her beauty but as the making of the film begins, it becomes clear that she is vulnerable and edgy causing problems with Olivier during filming though she does get sympathy from veteran actress Dame Sybil Thorndike (Judi Dench). However it is Colin who becomes the unlikely support for Marilyn who is touched by his care for her and as the shoot progresses, they spend time together but a spark between the pair threatens to complicate things further for both of them....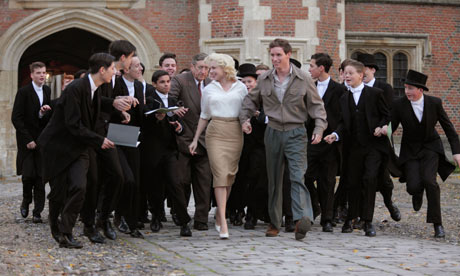 For a first directional effort by Simon Curtis, this is a well-made film that puts a lot of effort into its all round production from capturing the 1950s setting which is immaculately represented on screen with costumes and makeup also precise.
Not bad given the fact the whole film was made by the same company that triggered last year's Oscar-winning triumph The King's Speech.
Adapted clinically from Colin Clark's memoirs about his relationship with Marilyn we do get most of the background of went on during the making of the film with plenty of factual (though at times fictional) focus with plenty of strong character development built up. As for the cast, from the very moment we see Williams enter the film, the Marilyn persona is clear straight away. Though she doesn't quite capture the beauty of Marilyn properly, Williams is enchanting nonetheless and
plays Marilyn as a complex character, rather than the sex-kitten caricature we are all so used to seeing with the vulnerability, the mannerisms and the voice all delicately combined to make a great portrayal. Theatre actor Redmayne also gives an effective role and more so than Williams carries the film with his narrative and should give him plenty more acting opportunities soon while one of his predecessors Branagh delivers a great comeback as a venomous and at times comical role as Sir Olivier putting a lot of frustration into it as well as demonstrating the fear of being outdated as an actor. And as usual Dame Judi Dench pops up with another assuring and wise role as the veteran film actress who gives kindness to the likes of Colin and Marilyn during the shoot. A lot of varied British actors also pop up now and again, giving audiences a who's-who's of underrated supporting talent.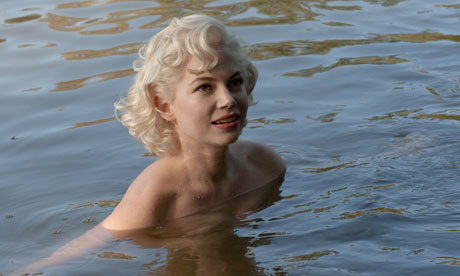 What lets it down in some ways is the slow-pace (but it at least paces better than Tinker Tailor) and though it delivers with the drama through emotionally powerful acting from Williams, you get a sense that it's trying to be flirtatious when it comes to the storyline and the way Marilyn is focused on towards the final third leaving audiences a little impatient with her own self-pitying. The climax itself is not entirely satisfying and feels a little open despite the monologue at the end leaving many people to question whether some of it was made up as controversy over the film has speculated that some of Clark's memoirs may have been over-delusional but we'll never know properly. Also the one big cast member who does disappoint is Watson who following the end of the Harry Potter series doesn't really add anything to the story aside from being the 'slightly' jealous love interest with one hoping that she can make amends by staring in some edgy and gritty material soon.
VERDICT: An articulately made effort as the original Candle In The Wind (Marilyn) gets the on-screen treatment which produces good but not great results due to the story's accuracy and pacing though Williams's towering performance carries it with solid support from the terrific ensemble.